Instuctions
VP PATCHES

Heres All My Koo Stuff 4 VP, If U Need Help Installing These, Click The Button Below.
| | | |
| --- | --- | --- |
| MEGA HEAD PATCH | This is the mega-head proggie ... yes ... there IS a difference between Mega-Head and Big-head ... this is Mega-Head .. NOTE: use at your own risk ... megahead is not allowed in VP | |
| MEGA HEAD SELECT | This Patch allows u to store full-size Mega-head avs (102X116 pixelz) in yur regular av folders ... its koo ... | |
| BIG FILEZ | This Patch (by Modummir) will allow you to send files in VP up to 125K (as opposed to your default 60K). | |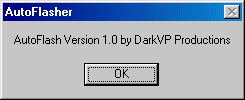 DARK VP AUTO ROOM FLASHER, THIS RULEZ, HEHEHHEHE, I MIGHT CONSIDER POSTING THIS IN A BIT, ITZ 2 DAM GOOD TO GIVE OUT, DROP ME AN E-MAIL, AND I'LL THINK ABOUT IT.

VP PROGZ
Host Tools Blocker
Host Tools Blocker Keeps anyone from doing anything to you with there host tools!
VpRess.dll
Host Tools. But u need a PW.
Big File
Lets you send files up to 125kb instead of 60kb *to send 160K Scroll Down at the bottom Of the List*
Clear AV
Clear Av, So people Can't See it, But your name is Still There!!! made by Blister_X
Gesture IMs
This VP Patch will enable you to play getsures in IMss o you can see and hear them, save this patch to your vp folder, exit vp and patch it.
MegaHead AV Patch
When you run a mega head this patch will let you select mega
head size clear avs right from your gallery, put this patch in the vp folder, exit vp and run it to get patched up.